| | |
| --- | --- |
| ICP DAS | |
M2M solution from ICPDAS
ICP DAS 2G/3G wireless solutions are uniquely designed to meet the challenges of implementing and managing a small, medium and large number of unmanned remote devices as well as mobile terminals using the 2G/3G network. The ICP DAS 2G/3G wireless system is comprised of intelligent 2G/3G modems with versatile interfaces, intelligent 2G/3G modules, and GRPS/GSM PACs with embedded dynamic IP resolution technology. It helps system integrators and application service providers quickly integrate 2G/3G Technology into their own solutions, and saves development time with reduced costs and assured performance.


PLC of G-4500 series
The G-4500 series provided by ICP DAS are M2M (Machine to Machine) mini programmable controller with a cellular transceiver can monitoring industrial equipment that sends live data to the monitoring system, providing real-time status. With optional GPS model, the G-4500 can also be a GPS tracking system. It can be used in vehicle management system or maritime system. Within the high performance CPU, the G-4500 series can handle a large of data and are suit for the hard industrial environment.
The G-4500-3GWA series feature 3G/GSM module, Ethernet interface, optional GPS module, 3 digital inputs, 3 digital outputs, 8 analog inputs, Ethernet, 2 RS-232 and 1 RS-485 port.


<!img src="icpdas/m2m.jpg" alt="" width="970" height="400" border="1" style="border: 1px solid gray">


The G-4500 series provided by ICP DAS are M2M (Machine to Machine) mini programmable controller are widely recommended in the world. Now, we provide the G-4500-3GWA series built-in a Tri-band 3G module to support WCDMA, HSDPA, HSUPA, GSM and GPRS. With a powerful processor to optimize performance on advanced broadband data networks, the G-4500-3GWA series is widely applied in various applications like hydrographic monitoring, intelligent power, flow meter report system and GPS car-tracking system. Therefore, the G-4500-3GWA is a flexible platform for industrial wireless platform to 3G technology applications. In traditional application, users need a master controller to integrate a telecommunication modem with developing cellular programs into the host. That would waste much time to integrate the various communication interfaces. Now, we have G-4500 series to solve the hardware integration problems with easy-to-used libraries. The G-4500 series built-in MiniOS7 provide the same development environment with I-7188/I-7186 series. It is easier for I-7188/I-7186 users to apply the G-4500 series. The G-4500 series applications can be divided into 2 parts: One part is the fixed intelligent remote management equipment such as water monitor system, vending machine system, remote machine monitor, home security, POS system, power measurement system and etc. Another kind of application is movement management equipment such as vehicle management system, maritime system, taxi dispatch system, and etc. Anyway, the G-4500 can save the cost and development time for users.

Specification:


10/100Base-TX Ethernet Controller;
COM port: COM1 (5-wire RS-232), COM2 (RS-485), COM3 (3-wire RS-232) ;
I/O: 3 channel DI, 3 channel DO, 8 channel AI;
Support SD storage card;
Quad-band 850/900/1800/1900 MHz GSM supporting GPRS;
GPS : 32 channels with All-In-View tracking
128*64 dots LCM display (only for G-4500D-3GWA and G-4500PD-3GWA);
Embedded MiniOS7;
Supports a variety of TCP/IP features, including TCP, UDP, IP, ICMP, ARP;
Support TCP server, TCP client, UDP client connection from GPRS;
Support Virtual COM technology;
Support Modbus Protocol;
High reliability in harsh environment;
Free easy-to-use software development toolkits.



I/O moduls ET-7000/PET-7000 with Ethernet interface







The ET-7x00/PET-7x00, a web-based Ethernet I/O module, features a Built-in web server which allows configuration, I/O monitoring and I/O control by simply using a regular web browser. Remote control is as easy as surfing the Internet. Besides Web HMI function, no more programming or HTML skills are required; creating dynamic and attractive web pages for I/O monitoring and I/O control would be fun to engineers ever after. The ET-7x00/PET-7x00 offers easy and safe access for users from anytime and anywhere! In addition, the ET-7x00/PET-7x00 also supports Modbus TCP protocol that makes perfect integration to SCADA software. Furthermore, PET-7x00 features "PoE" that not only Ethernet but also power is carried through an Ethernet cable. This feature makes installation of PET-7x00 a piece of cake. Imagine that no more unnecessary wires, only an Ethernet cable takes care of everything in the fi eld. Wide Operating Temperature Range: -25 ~ +75°C

Analog Input module 

Analog Input for Voltage/Current or Thermocouple  

Analog Input and Output module  

Analog Current Output module  

Digital Input modules  

Digital Input and Output modules


USB I/O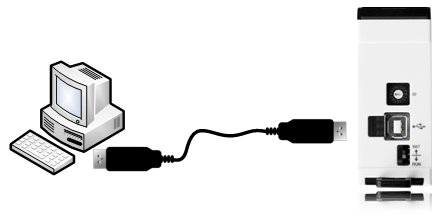 ICP DAS USB series I/O modules are highly flexible solution to acquire or output data. User can build up own PC-based control, laboratory research, testing and so on by applying ICP DAS USB series modules. The advantages of ICP DAS USB I/O modules are small size, portable, USB bus powered and various input type to help user build up own project easily and quickly in different field and application.

USB-2000


Touch panel ViewPAC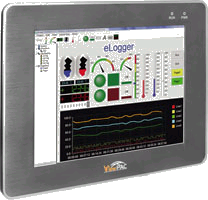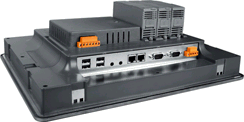 ViewPAC - combines a color graphic display and I/O expansion slots into a single unit. It is equipped with a Intel Atom N2600 CPU (1.6 GHz), a variety of connectivities (USB, Ethernet, RS-232/485), 3 I/O slots and 15" TFT LCD. With the Intel Hyper-Threading Technology of Atom CPU, the VP-6441 can be used for deterministic operation. VP-6641 supports Windows Embedded Standard 7 and Windows Embedded Compact 7.