Status Machine Edition




Status Machine Edition is an easy to use HMI/SCADA data monitoring system designed for quick results. Design, connect and view your real time data in minutes.

Binding to Real Time Data

With Status Machine edition anyone can create modern, compelling HMI screens for Windows or the Web without having to write a single code. Simply drag one of our many controls from the toolbox to the design surface. Select a data item to bind to from the data binding tab, and click bind. It's that easy.

Data Sources

Status Machine Edition can be used display real time data from OPC DA, OPC UA, OPC HDA, OPC AE, and OPC XAML DA Servers. Data can also be brought in Status from ODBC databases. Custom data sources can be written allowing data to come from almost anywhere. B-Scada offers OPC Servers for hundreds of devices and interfaces. Through interoperability testing, connectivity has been tested with the OPC Servers of many companies.

List of OPC servers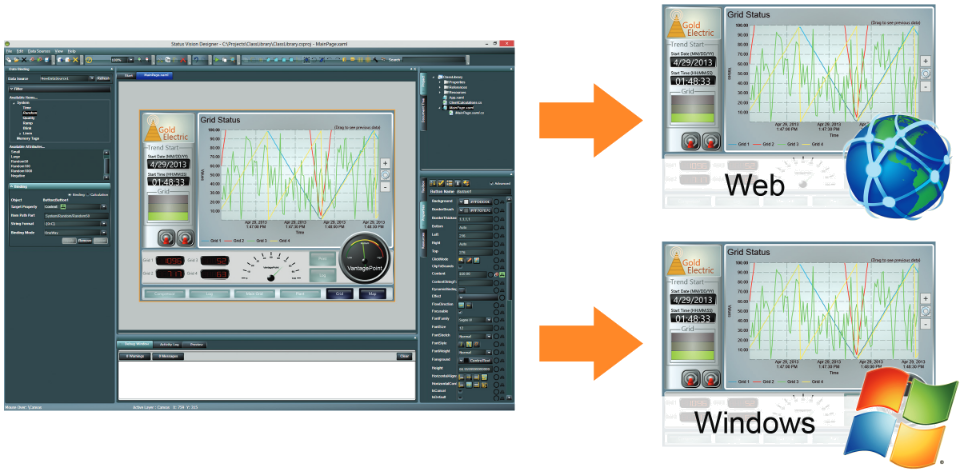 Silverlight

Status Machine Edition publishes to Microsoft Silverlight, a powerful platform for creating interactive user experiences on the web. Silverlight is a browser plugin supported by Internet Explorer, Firefox, Safari and Chrome on both Windows and Macintosh operating systems. Silverlight is by far the most sophisticated web technology available today. If you have the Silverlight Plug-in installed, you can view one of five sample applications live.

Requirements

If you are developing Silverlight Applications with Status Machine Edition, you will need to install the Silverlight 5 Software Development Kit from Microsoft. Silverlight applications can be hosted on most types of web servers like Internet Information Services (IIS) or Apache.

.NET Support

Although complex Status Machine Edition applications can be created without programming knowledge, Status was designed from the ground up to be fully customizable and extensible. Status projects are formatted using Microsoft Visual Studio C# and Visual Basic. Projects can be extended in Visual Studio 2010 or better using the full power of .NET and maintain their compatibility with Status.

Alarming

The Status Alarming Server allows you to create custom alarms and events based on any data tag that is presented by an OPC server. These alarms are served in real time to either a Windows or Silverlight application for easy viewing, allowing you to quickly diagnose and react to abnormal conditions. Alarms can also be configured to send either email or SMS alerts to users.

Trending

The Trend control in Status captures and displays live, dynamically updated real-time data and indexed historical data in a Line Chart format. Trend control functionality includes the ability to zoom in/out to arbitrary ranges within the data, support for live and real-time data point manipulation, and scrubbing through the available data history.

Calculations

Using the Calculation Engine in Status Management Console, you can configure certain data tags so that they are converted using either a predefined formula, or a custom user created formula.

Logging Server

The Status Logging Server allows you to pick a data item, a calculated item, or alarm that you want to log. These items will be stored in a SQL database and can be pulled back out via the Status Trend Control, a report configured from Excel, or exported to a .CSV file from the reporting service.